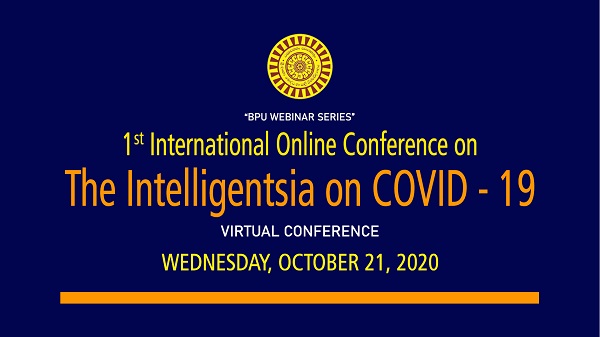 The inaugural Online Conference - The Intelligensia on Covid - 19 conducted under the "BPU Webinar Series" was held on 21st of October, 2020. The Keynote address was made by Dr. Ananda Wijewicrama, Consultant Physician at National Institute of Infectious Diseases, Sri Lanka. 18 researchers presented papers under diverse themes related to Covid - 19 pandemic and its drastic effects on various fields.
The first session was chaired by Prof. Samantha Illagakoon, the Dean, Faculty of Buddhist Studies and moderated by Ven.Rideegama Wanarathana, Lecturer at Department of Buddhist Culture.The second session was chaired by Ven. Illukewela Dhammarathana, the Head,Deapartment of Buddhist Philosopy and moderated by Ms. Jeewanthi Hettiarachchi, the Head, Computer Teaching Unit. The third session was chaired by Ven. Prof. Moragollagama Uparathana, the Dean, Faculty of Graduate Studies and moderated by Dr. Swarnananda Gamage, Senior Lecturer at Department of English Teaching Unit.
The first online conference came to an end with the concluding remarks made by Ven. Dr.Homagama Dhammananda, the Head, Department of Religious Studies and Comparative Philosopy, the conference chair.